Treatment for Low Back Pain in Shoreview, MN
Do you have low back pain?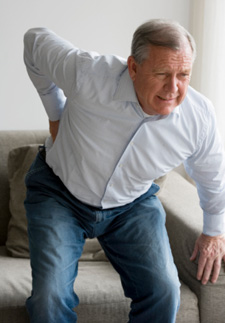 Back Pain Facts:
Low back pain is one of the most common reasons people miss work
Low back pain is one of the most common reasons for medical doctor visits
Low back pain is the 3rd most frequent reason for surgery.
Americans spend $50 billion a year on back pain
Chiropractic is one of the most effective treatments for low back pain
The federal government research organization, Agency For Health Care Policy & Research, recommended spinal manipulation (what chiropractors do) as a first choice therapy and said it is the only safe and effective drugless treatment for acute low back pain.
Dr. Douglas Yost is an expert in treating low back pain and has helped hundreds of patients get out of pain and stay out of pain. He uses an approach that teaches patients stretches and exercises that are simple and easy and can prevent the pain from returning.
Therapies Used In Treatment of Low Back Pain:
Spinal manipulation
Ultrasound
Electric stim
PIR Stretching
Manual Muscle Release
Kinesio Tape
Dr. Doug will work with you to not only get you out of pain, but also find the cause. Whether it is from an injury, stress, a bad mattress, or poor posture, etc. we can help you find the cause and recommend changes and improvements. Call Dr Doug today at (651) 484-0151!
---
Low Back Pain Relief at Advanced Chiropractic & Wellness Clinic
Serving Shoreview, Arden Hills, Roseville, MN